Interview
My name is Cinzia, I have a former career in advertising, I live in Milan with Mario (my partner in art and in life) and our 2 sons.
For years we have created artistic exhibitions and installations together, signing our works with the name "Arte Sinergie Group" (hence the name Sinergie Milano for my bijoux).
After paintings and installations, I went through the experience of creating furnishing objects with the Gres ceramic, to which I have often combined natural elements such as liane, branches or glass gems.
The curved forms existing in nature have always attracted me, for this reason I have often interpreted them both in the realization of the paintings and with ceramic, up to the creation of a series of books containing footprints on paper and ceramic of some finds of nature collected during my travels.
Some works of this experience (called "The pages of the soul") were selected at the "Albissola ceramic art Biennale of contemporary art" (SV) and at the "Biennale of the artist book" in Naples.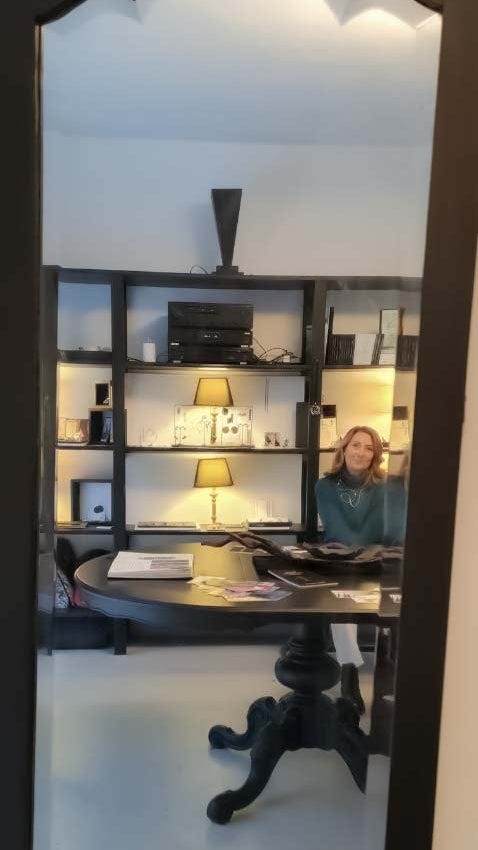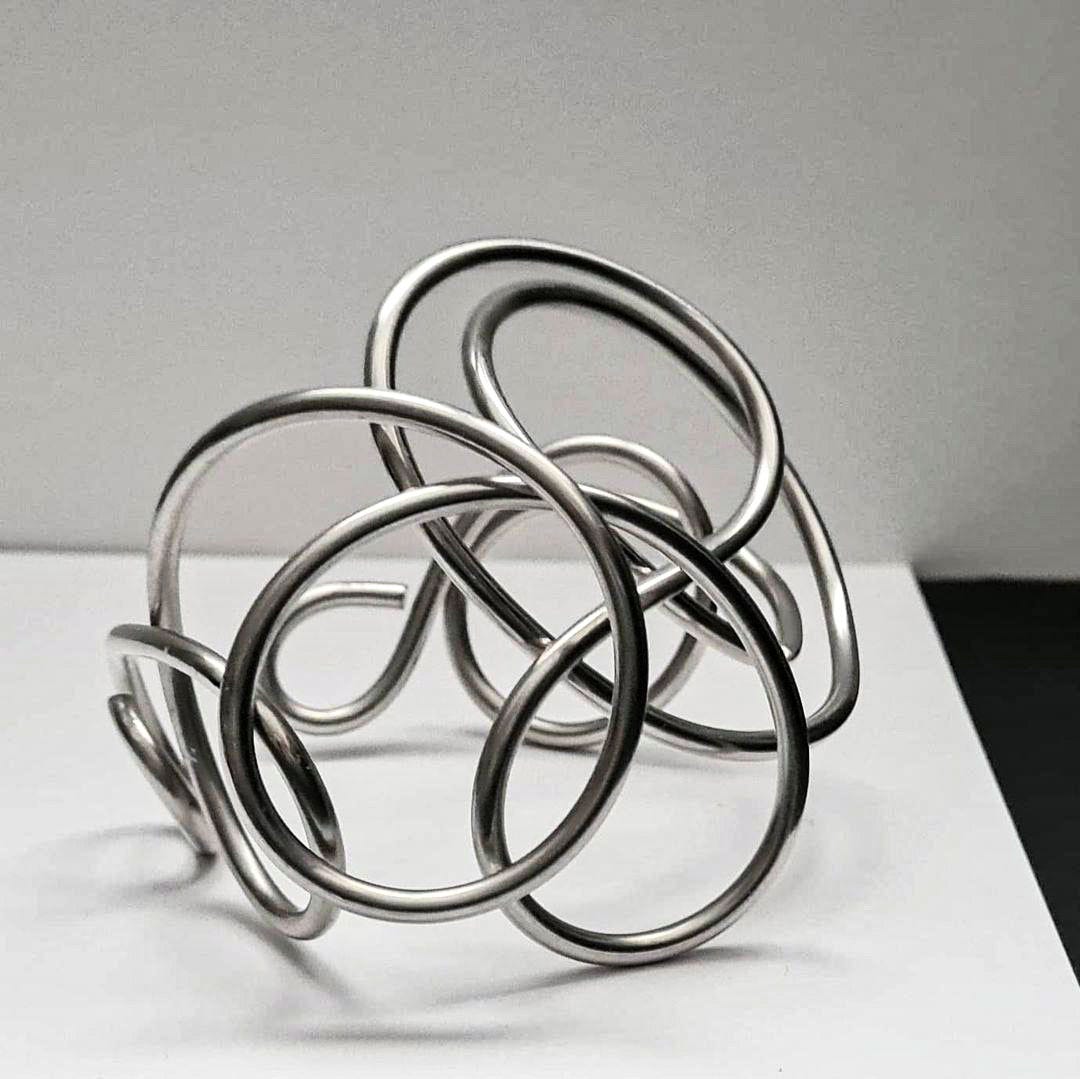 How I came to the creation of bijoux:
A thread of aluminum, initially used for an artistic wall installation, opened a world of creativity thanks to malleability and lightness: while handling and twisting a piece in my hands, I glimpsed an extravagant necklace in it.
Then I hooked it to two Alcantara ribbons and I wore it for some time, without expecting anything from this improvised jewel.
Instead, when I wore it, I received compliments and curiosities about how and where to find such a similar one.
At that point I gave the necklaces as gift to the dinner guests.
When my friends wore the necklaces in the office, the colleagues admired the jewels and asked where they could buy it.
This is how I started producing necklaces and bracelets, starting to use aluminum with stones, crystals or metal elements that I enjoyed finding in markets or shops of various kinds and that make my bijoux unique because they are very difficult to find.
The abstract and nonconformist shapes then immediately attracted a defined type of customer.


The new materials: Brass and German Silver
Over the years I have felt the need to use the most refined materials.
With the brass thread (gold plated) or the German Silver (titanium plated) I get bijoux that don't oxidize and that keep the hot or glacial light unaltered, that however I menage to model with hands and with creative impetus.
Since I don't need special tools, I dedicated a small space in the my house to the laboratory.
In this way I can menage time and the various daily errands, as well as an undisputed containment of the costs that allows me to keep the bijoux at accessible prices.
In addition, in an old warehouse under the house, I created a small atelier where I exhibit my creations and during a few months of the year I love to host exhibitions of contemporary photographers to create synergies that I hope will last over time.
The commercial activity takes place mainly through the online shop on Etsy and on my website (sinergiemilano.com), thanks to which I can reach a wider audience and above all a target more interested in craft productions of unique pieces.
The Sinergie Milano collection:

In this period the lines created are clean and harmonious, I mainly create necklaces and bracelets with a sculptural and abstract appearance, suitable for unconventional women who love to wear refined and unusual accessories. They are certainly a statement, but they maintain an elegant and contemporary appearance.
By creating these small objects, I like the idea of sharing some of my creativity with people who love the forms created with an artistic impetus and these people, by wearing the bijoux, will give original style to my creations, making each piece "unique ".
Bracelets : abstract, in gold-plated brass for those who love warm tones, or in titanium-plated silver for those who prefer austere and glacial light.
Sculpture jewelry.:
Bold, unconventional, fascinating and unique.
Worn it transforms every outfit in a special one.
Art for body: original and unique seductive contemporary jewelery - high fashion - wearable art and sculpture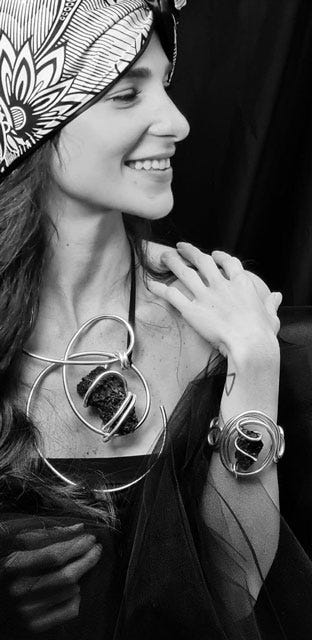 A synergy that brings distant worlds closer together
Cinzia tells us a story about an unexpected synergy :
One day I received an e-mail from the secretary of a large carbon mining company based in Texas.


She told me that carbon was used to make aluminum, that among their European customers there are companies that work the material to make aluminum items.
She added that for the Christmas holidays the customers will visit their headquarters to see the extraction quarries live, bringing along their wives/girlfriends.


Hence her idea to search the web for a designer who makes aluminum jewelry to propose a collaboration to make unique gifts so as to provide their guests with something representative of their business to take home.

This because the moment she had seen my creations, she immediately felt that she could describe to me her idea, hoping for my willingness to contribute to what she had imagined.

And so it was: we understood each other immediately! In a short time she sent me some pieces of carbon which I interpreted my own way.

When she received the first four necklaces her enthusiasm was immediate. The management praised the collaborator for the original idea and I became their official supplier of aluminum bijoux with a piece of carbon inserted.

The final receivers of the necklaces as a gifts were delighted, too.

They were amazed by the story of how our collaboration was born, understanding the added value of synergy and creative complicity.


After this first experience, I also made pendants and bracelets for them that they love to give to their clients' beloved ones,
always accompanying the gifts with the story about how we meet.


I myself keep in my workshop a copy of a necklace and bracelet made with carbon, which I use only for special shots.

These unique pieces remind me the story above and talking about them I can share with my clients how the web can unexpectely bring ideas and distant nations together to create something new.